Announcing the 2017 WOW Awards Celebration
Friday, May 12, 2017
6:30 – 11 PM
Hockessin Memorial Hall
610 Yorklyn Rd., Hockessin, DE  19707
The Delaware HIV Consortium is pleased to announce Wilmington's most exciting HIV/AIDS fundraiser, the 13th Annual WOW Awards Celebration "25."  This fundraiser – called "the best party in Delaware for one of the best causes" by Delaware Today – will be held on the evening of Friday, May 12, 2017, at a new location this year:  Hockessin Memorial Hall in Hockessin!
Honorees:
Ally Award – Suzanne Tait, Beautiful Gate
 Community Award – Planned Parenthood Delaware
Humanitarian Award – Heather Wagner, PharmD
Walgreens Ninth & Market
 Impact Award – Kristie Goldsboro, Walgreens Dover
 Ryan White Award – Kelly Cantwell-McNelis, PharmD, Christiana Care
 Leadership Award  – Gilead / Brian Palmer, DO
 Guardian Angel Award –  Susan Wilson, ACRN
Christiana Care
 Volunteer of the Year – Stacey Garlic
Purchase tickets or table to WOW.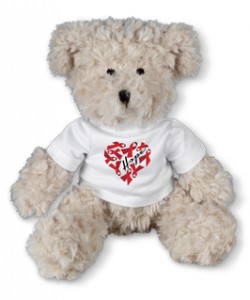 Hope Teddy Bears on Sale!
We still have a small supply of  the HOPE TEDDY BEAR for $20 (must be picked up at our Wilmington office).  You can pre-order and pay online by clicking the link below.

DelaWEAR One
Mail Order Condom Program
This program is designed to help curb HIV infection and is intended for the following people:
those who are HIV positive,
sexual partners of those who are HIV positive, and
those who are at higher risk of contracting HIV (including IV drug users and people with multiple sex partners who currently do not use condoms).