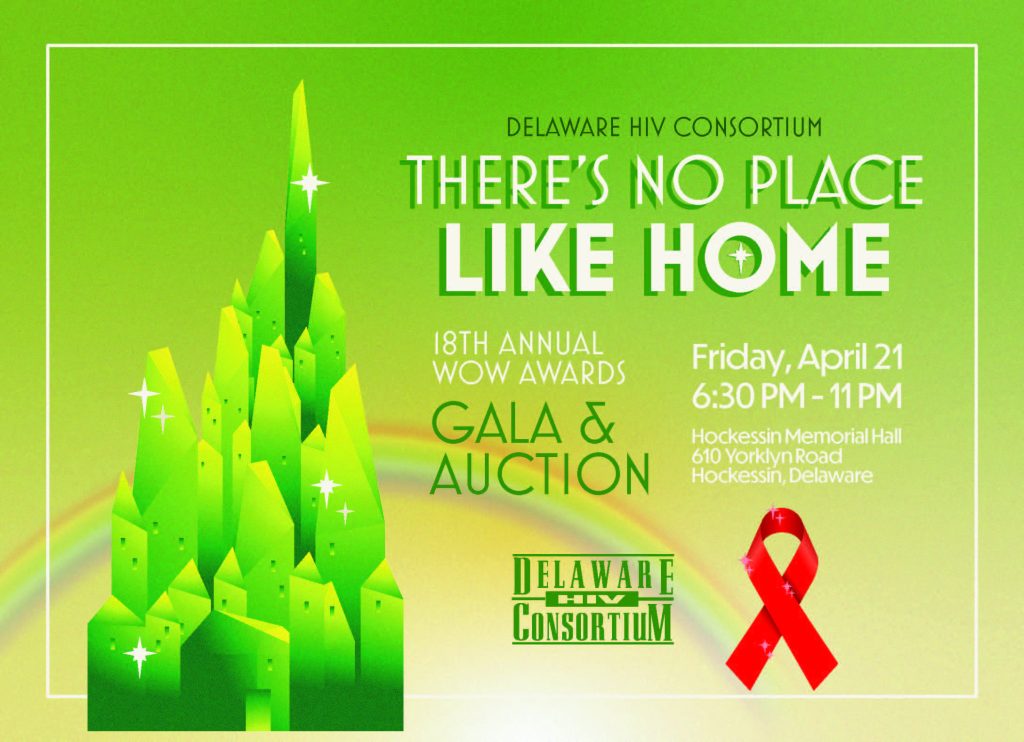 2023 WOW Awards Gala & Auction
Friday, April 21, 2023
6:30 – 11:00 pm
The Delaware HIV Consortium will host its 18th annual WOW! Awards Gala at the Hockessin Memorial Hall on Yorklyn Road in Hockessin, Delaware. Please join us as we celebrate the movers and shakers in Delaware that have helped improve the lives of people living with HIV in Delaware!
2023 Honorees:
Inaugural Delaware HIV Consortium Lifetime Achievement Award
Arlene Bincsik, RN, MS, CCRC, ACRN, Director (retired), ChristianaCare William J. Holloway Community Program
Red Ribbon Statesman Award
Bethany Hall-Long, PhD, RN, FAAN, Lieutenant Governor, State of Delaware
Red Ribbon Visionary Award
John Barnes, Executive Director (retired), Funders Concerned About AIDS
Red Ribbon Leadership Award
James E. Dowling, MPA, HIV Prevention Program Administrator, Delaware Division of Public Health
Red Ribbon Ally Award
Gloria Dixon, Senior Office Assistant, ChristianaCare William J. Holloway Community Program
Red Ribbon Ryan White Award
Leslie Hayes, BSN, RN, ACRN, HIV Primary Care Nurse, ChristianaCare William J. Holloway Community Program
---
The program this year will include an auction, raffles, and our WOW! Red Ribbon awards ceremony. Once again this year, we feature a signature cocktail, an open beer and wine bar, a cash liquor bar, and a dinner buffet featuring fare from the American heartland.
Event Attire:
The dress for the event is cocktail attire, but don't be afraid to dress for the event's theme – "there's no place like home." (Think your favorite style from The Wizard of Oz, The Wiz, or Wicked The Musical.)

---
---
2023 Event Sponsors
AIDS Delaware
Aloysius Butler & Clark
Barbacane, Thornton & Company
Beebe Healthcare
ChristianaCare
City of Wilmington-City Council
Planned Parenthood of Delaware
Toshiba
Walgreens
2023 Media Sponsor
DETV
2023 Contributing Sponsors
Breakthru Beverage Delaware
Dogfish Head Beer & Benevolence
N.K.S. Distributors, Inc.
2023 Design & Print Sponsors
Cann Printing
Spark Creative Group
2023 Entertainment Sponsors
Singer/Songwriter, Bobby Lee Jones
Brian Figarol Commercial Residential Property Detailing
WOW! History
The WOW Awards Celebration is the signature fundraiser of the Delaware HIV Consortium. With a new theme each year, the WOW Awards Celebration recognizes leaders in the field of HIV and raises much-needed funds for Delawareans living with the disease. Phenomenal fare, spirits, entertainment, and a silent auction are essential parts of each event.
Since the inaugural WOW Celebration in 2005, the Delaware HIV Consortium has been thankful for its many longtime sponsors such as MAC Cosmetics/VIVA Glam, Bank of America, Walgreens, Highmark Blue Cross Blue Shield Delaware, Gilead, ChristianaCare, 6abc News, and many others.
For the first time, in 2023, DETV in Wilmington will act as the premier media sponsor for WOW!, providing its most prominent news anchors as guest emcees.
Two-time Emmy award-winning soap star Heather Tom has graced this event as host/emcee, along with entertainment by Broadway greats like Kevin McGuire, whose credits include lead roles in Phantom of the Opera and Les Miserables.
The WOW Awards Celebration is an annually sold-out event with more than 200 guests that include elected officials, leaders of the business community, our partners in HIV services, healthcare professionals, and hundreds of community supporters,
A silent auction of several hundred incredible items, specialty raffles, and entertainment tops off the evening and has delighted our guests for the past decade.
We hope you join us for our next event – we want to make YOU say WOW!
---
Past WOW! Red Ribbon Awardees
Alphabetical by last name (year of award)
Dolores Alfano (2005)
Kim Alfano Doyle (2005)
Murray Archibald, CAMP Rehoboth (2007)
Jim Arcidiacono, Walgreen Co. (2014)
Phillip Arendall, Kiwanis Club of Wilmington/Brandywine (2005)
Mayor James M. Baker, City of Wilmington, Delaware (2005)
John Baker, AIDS Delaware (2005)
Renee Beaman, Beautiful Gate Outreach Center (2006)
Nina Bennett, MS, AIDS Education Training Center (2015)
Chip Beverung, Woody's Crab House (2015)
Jerry Bilton, Community Services Building (2018)
Arlene Bincsik, Christiana Care (2012)
Council President Theodore Blunt, City Council, City of Wilmington, Delaware (2008)
Representative Lisa Blunt Rochester, United States House of Representatives (2021)
John P. Brown (2007)
Michelle Brown (2015)
Robin Brown, The News Journal (2012)
Christopher F. Buccini, BPG Real Estate Services (2005)
Robert E. Buccini, BPG Real Estate Services (2005)
Joyce Bunkley, Christiana Care HIV Program (2010)
Kelly Cantwell-McNelis, PharmD, Christiana Care HIV Community Program (2017)
Dianne Casey, Delaware HIV Consortium (2018)
Harriett Cauley, Faith Community Partnership (2008)
Peter Chakonas, Pride Klean Services (2014)
David Cohen, M.D., Infectious Disease Associates, PA (2005)
Ray Collins, Delaware Division of Public Health (2021)
Hector Colon, William J. Holloway Community Program, ChristianaCare (2022)
Senator Chris Coons, United States Senate (2012)
Stephen Curtis, Hadfield's Seafood (2007)
Danielle Davis, Gilead Sciences (2010)
Rita Devlin Salvo (2012)
Dan DiGuglielmo, Wellness Foundation of Delaware (2006)
Steve Elkins, CAMP Rehoboth (2011)
Stephen Eppes, M.D., ChristianaCare (2021)
John P. Gardner, AIDS Delaware (2011)
Stacey Garlic (2017)
Brother Ronald Giannone, The Ministry of Caring, Inc. (2005)
Tim Gibbs, Delaware Academy of Medicine, Delaware Public Health Association (2022)
Helene Gladney, City of Wilmington, Delaware (2007)
Steve Gobeil, WAWA (2018)
Kristie Goldsboro, Walgreen Co. (2017)
Frank Hawkins, AIDS Delaware (2010)
Janice Heinssen, Christiana Care HIV Program (2007)
Senator Margaret Rose Henry, Delaware General Assembly (2005)
Katharine M. Hilmer (2010)
William J. Holloway, M.D., MACP, FRCP, Christiana Care (2008)
Nita Holloway (2018)
Frank J. Howard, Jr., Howard Consulting Group (2013)
Christopher James, PharmD, ChristianaCare William J. Holloway Community Program (2021)
Ronald Johnson, AIDS United (2016)
Karen Kane, Highmark Health (2016)
Representative Helene Keeley, Delaware General Assembly (2007)
Patrick Keenan, Delaware HIV Consortium (2022)
Michael Kelsey, JPMorgan Chase (2015)
Gary Kirchhof, Highmark Blue Cross Blue Shield Delaware (2014)
Denise Kitson, Brandywine Counseling & Community Services, Inc. (2008)
Eric Klinger-Wilensky, Morris Nichols Arsht & Tunnell (2019)
Bill Korenkiewicz (2013)
Gita Kumar, GlaxoSmithKline (2009)
Annmarie Lamon (2019)
Alyson Lang, Each One Teach One (2015)
Tyrone Larkin (2014)
Jacques LeClair, Proud Bookstore (2014)
Patricia Lincoln, AIDS Education Training Center (2009)
Dorian Lobato, Iron Hill Brewery & Restaurant (2018)
Ruth Lytle-Barnaby, Planned Parenthood of Delaware (2017)
Sister Dolores Macklin, Catholic Charities Diocese of Wilmington (2009)
Mark Manchen, Christiana Care HIV Program (2011)
Robert Marcinko, RPh, Walgreen Co. (2018)
Michael Marcus, M.D., Christiana Care Center for Comprehensive Behavioral Health (2014)
Governor Jack Markell, State of Delaware (2013)
Steven S. Martin, University of Delaware (2013)
Mary Mathews, Laboratory Corporation of America (2011)
William Mazur, M.D., Christiana Care HIV Program (2012)
Pat McDowell, NAMI Delaware (2010)
Ismael Medina, Latin American Community Center (2019)
Jack Miller, Mountaire Chicken Run (2019)
Joni Miller, BSN, ACRN, Christiana Care HIV Program (2014)
Sharon Miner, APRN, Christiana Care HIV Community Program (2018)
Nicholas A. Mirkay, Widener University School of Law (2010)
Renetta Mosley, Bristol-Myers Squibb (2011)
Sarah Noonan, Westside Family Healthcare (2012)
Daniel O'Connell, Ph.D., University of Delaware (2013)
Brian Palmer, DO, Gilead Sciences (2017)
Rebekah Parsons, Qiagen Sciences (2015)
Matt Pellman, 6abc (2013)
Lisa Phillips, M.D., Christiana Care HIV Program (2010)
Glen Pietrandoni, RPH, AAHIVP, Walgreen Co. (2012)
Christopher Podsiad (2021)
Stephanie Pro, PharmD, Walgreen Co. (2021)
Glen Pruitt, Delaware HIV Consortium (2015)
Cher Przelomski (2006)
Marco Ramos, Latin American Community Center (2008)
Elizabeth Ramsoram, The Ministry of Caring, Inc., House of Joseph II (2011)
Jon Reitz, Walgreen Co. (2015)
Sister Christa Rowe, OSC, The Ministry of Caring, Inc., House of Joseph II (2016)
Sister Jean Rupertus, The Ministry of Caring, Inc., House of Joseph II (2007)
Suzanne Saunders Tait, Beautiful Gate Outreach Center (2017)
Carolyn Savini, Christiana Care (2008)
Joe Scarborough (2008)
Ginny Schatzman, Clarion Hotel – The Belle (2013)
Salvatore Seeley, CAMP Rehoboth (2016)
Jack Severyn (2009)
Siana Sharp (2021)
James K. Shepherd, Christiana
Care Kent Wellness Clinic (2013)
Basha Silverman, Brandywine Counseling & Community Services, Inc. (2011)
Lisa Skedzielewski, PharmD, AAHIVP, Walgreen Co. (2016)
Kelly Snavely (2011)
Lucy Somers, RPh, Walgreen Co. (2016)
Darrell Sparks, MSW, Christiana Care William J. Holloway Community Program (2019)
Mary Kay Sullivan, Christiana Care HIV Program (2011)
Holly Swan, Ph.D., University of Delaware (2013)
Karen Swanson, BSN, RN, Christiana Care HIV Program (2013)
Susan Szabo, M.D., Christiana Care HIV Program (2006)
Doug Trader, Delaware Division of Public Health, HIV/AIDS Ryan White Treatment Program (2022)
Bethany Twardowski, RN, Christiana Care HIV Community Program (2018)
Steve Twilley, Sussex County AIDS Council (2006)
Jose Varela, AIDS Delaware (2007)
Robert Vella, Delaware Division of Public Health (2019)
Heather Wagner, PharmD, Walgreen Co. (2017)
Stanley Waite, Delaware Division of Public Health (2014)
Sharyn Warwick (2009)
James Welch, Delaware Department of Correction (2006)
Cynthia Williams, FNP, Christiana Care William J. Holloway Community Program (2019)
Susan Wilson, ACRN, Christiana Care HIV Community Program (2017)
Peter Woods, Woody's Crab House (2015)
Chris Zebley, APRN-BC-ANP, AAHIVS, Christiana Care Health System (2016)
AIDS Walk Team, Bank of America (2014)
Creative Staff, Barron Marketing Communications (2009)
Pharmacists, Walgreen Co. (2021)
Syringe Services Program, Brandywine Counseling & Community Services, Inc. (2022)
Wilmington City Council, City of Wilmington, Delaware (2005)
6abc (2006)
Bank of America (2009)
BarclayCard US – SPECTRUM (2015)
Baxters Restaurant and Lounge (2008)
Blue Cross Blue Shield of Delaware (2008)
Brandywine Counseling & Community Services, Inc. (2012)
Bristol-Myers Squibb (2006)
CAMP Rehoboth (2006)
Club Phred (2010)
Crimson Moon Tavern, Robert Ellis Memorial Fund (2019)
Highmark Delaware (2021)
Iron Hill Brewery & Restaurant (2013)
MAC AIDS Fund (2005, 2010)
Mattes Seafood (2013)
Moore Brothers Wine Company (2008)
Newark-Morning Rotary (2007)
Pfizer Inc. (2012)
PhRMA (2009)
The Kenny Family Foundation (2021)
The News Journal (2005)
Tibotec Therapeutics (2009)
---
Themes from WOW! Award Gala & Auctions of Years Past
2005 – WOW Awards Gala
2006 – A Casual Evening in the Country
2007 – Great Gatsby (roaring 20s)
2008 – Summer Fling
2009 – Paint the Town Red
2010 – You're Invited to Come Aboard (60's airline culture)
2011 – Kapow! It's WOW! (super hero)
2012 – Glee
2013 – In Basic Black (black dress and pearls)
2014 – Full Steam Ahead (nautical)
2015 – Rendezvous in Paris
2016 – Thank God It's Friday (disco)
2017 – 25 Years of Community Service to Delaware
2018 – A Night Under the Stars
2019 – Lu WOW
2020 – Canceled due to COVID
2021 – 30th Anniversary
2022 – That's Amore (Italian)
2023 – There's No Place Like Home (Wizard of Oz)
---
© The Delaware HIV Consortium