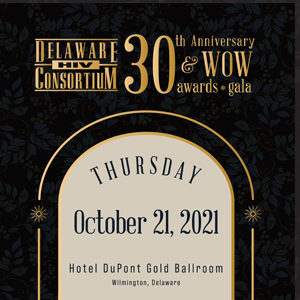 2021 30th Anniversary & WOW Awards Gala
Thursday, October 21, 2021
Our WOW! Awards Gala will be special this year as we celebrate our 30th Anniversary of service to the Delaware HIV community! We look forward – as the COVID-19 pandemic comes to a close – to joining together at the Hotel DuPont Gold Ballroom as we celebrate the movers and shakers in Delaware that have helped improve the lives of people living with HIV in Delaware!
Our program this year will not include an auction, but will have some raffles and gift baskets that you can take a chance on winning. This year, we feature an open wine bar with cash bar, followed by a dinner buffet with our WOW award presentation.
Cocktail attire.
NOTE: For the health and safety of all of our guests, we will be requiring proof of full vaccination or a negative COVID-19 test result within 72 hours of the event.
We will follow CDC and State recommended guidelines at the time of the event.
–
2021 WOW Awardees:
Public Health Champion Award – Ray Collins
Guardian Angel Award – Stephen Eppes, MD
Corporate Support Award – Highmark Delaware
Ryan White Red Ribbon – Chris James, PharmD
Humanitarian Award – The Kenny Family Foundation
Volunteer of the Year – Christopher Podsiad
Ally Award – Stephanie Pro, PharmD, Walgreens
Impact Award – Rep. Lisa Blunt Rochester
Community Award – Siana Sharp
Outstanding Service Award – Walgreens Pharmacists
2021 WOW Virtual Auction Sponsors

WOW! History
The WOW Awards Celebration is the signature fundraiser of the Delaware HIV Consortium. With a new theme every year, the WOW Awards Celebration recognizes leaders in the field of HIV/AIDS and raises much-needed funds for Delawareans living with the disease. Phenomenal fare, spirits, entertainment and silent auction are important parts of each event.
Since the inaugural WOW Celebration in 2005, the Delaware HIV Consortium is proud of its many longtime presenting sponsors such as MAC Cosmetics/VIVA Glam, Bank of America, Walgreens and supporting sponsors GlaxoSmithKline, Highmark Blue Cross Blue Shield, Gilead, Bristol-Myers Squibb and Abbott Laboratories. For the past ten years, 6abc NEWS in Philadelphia has been premiere media sponsor, providing its most prominent news anchors as guest emcees. In addition, 6abc provides pre- and post-event coverage of the event on its newscast.
Two-time Emmy award-winning soap star Heather Tom has graced this event as host/emcee along with entertainment by such Broadway greats as Kevin McGuire whose credits include lead roles in Phantom of the Opera and Les Miserables.
The WOW Awards Celebration is an annually sold-out event with more than 350 guests that include elected officials, leaders of the business community, our partners in HIV services, healthcare professionals, and hundreds of community supporters,
A Silent Auction of several hundred incredible items, a specialty raffle, a grand raffle, and entertainment tops off the evening and has delighted our guests for the past decade.
Click on each of the following links to get a glimpse of past WOW Awards. We hope you join us for our next event – we want to make YOU say WOW!
2016 WOW Awards Celebration
WOW Awards Celebration 2015
WOW Awards Celebration 2014
WOW Awards Gala 2013
WOW Awards Gala 2012
WOW Awards Gala 2011
WOW Awards Gala 2010
WOW Awards Gala 2009
WOW Awards Gala 2008
WOW Awards Gala 2007
WOW Awards Gala 2006
WOW Awards Gala 2005
---
© The Delaware HIV Consortium