CARES Act Expands Tax Deductible Contributions
from FORBES, 4/3/20
The Coronavirus Aid, Relief and Economic Security Act (CARES Act) was enacted on March 27, 2020. In order to encourage charitable contributions in 2020 (for any charitable purpose, not just contributions to charities related to the COVID-19 crisis) the CARES Act increases the maximum 60% of AGI charitable contribution limit to 100% of AGI limit for 2020. This means that you can get a charitable contribution deduction for the full amount of your Adjusted Gross Income. Charitable contributions in excess of this amount can be carried forward for five years subject to the 60% of AGI limit in those years. The higher 100% of AGI limit applies to cash contributions made directly to charitable organizations, not to contributions to donor advised funds, supporting organizations or private foundations. READ MORE
VOICES Spring edition is here. Click HERE for the PDF.
COVID-19: Offices closed, we're open for business though!
These are very trying times for everyone but our sacrifices now will benefit everyone. In the interest of helping to reduce the spread of COVID-19 (Coronavirus), while protecting our clients and our staff from unnecessary risk, the Delaware HIV Consortium has closed its offices and has implemented a remote work policy. It is our plan to reopen for normal business on April 1, but that may change depending upon the environment at that time.
In the meantime, our staff will be available by phone at 302-654-5471. Please leave us a message and someone will get back to you soon. We appreciate your patience. If you are a Case Management client served by the Delaware HIV Consortium, your case manager will be in touch so that you have a direct phone number to contact them.
We are all hoping for the best and that these steps will help bring the COVID-19 pandemic under contract.
WHAT YOU CAN DO TO HELP:
Take steps to avoid spreading germs from any respiratory diseases by:
· Wash your hands and use hand sanitizer.
· Don't touch your face.
· Cover your cough with a tissue or your elbow.
· Stay home if you are sick.
· Get your flu shot (if you haven't already; check with your doctor)
Please know that your health and safety and that of your loved ones is of the utmost importance to us. We encourage you to stay connected to the most recent recommendations of our public health officials and the CDC. Working together, we will beat this. For as long as we need to "social distance" ourselves, let's use technology to "get 'er done." We are still here to serve you, so be in touch, and we look forward to the day when we can see your smiling face.
Stay healthy and happy,
Peter Houle, MBA
Tyler Berl, MA
Delawareans with questions about COVID-19 or their exposure risk can call the Division of Public Health's Coronavirus Call Center at 1-866-408-1899 or TTY at 1-800-232-5460 from 8:30 a.m. to 4:30 p.m. Monday through Friday, or email DPHCall@delaware.gov . For the latest on Delaware's response, go to: https://dhss.delaware.gov/dhss/dph/epi/2019novelcoronavirus.html

What People With HIV Need to Know About the New Coronavirus
From POZ Magazine, what you need to know about the COVID-19 virus outbreak. CLICK HERE.
Berl Named Executive Director for Delaware HIV Consortium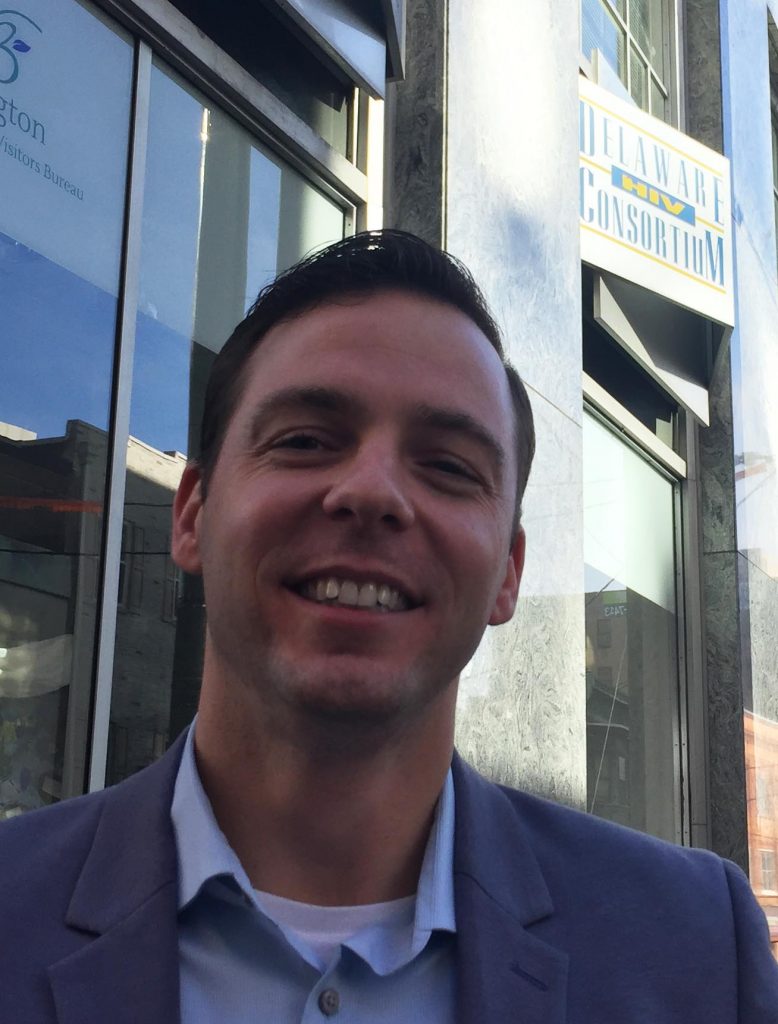 Tyler Berl, M.A. has been appointed executive director of the Delaware HIV Consortium effective March 13, 2020. Berl will lead the Consortium's programs, which serve people living with HIV, while also offering programs to prevent HIV infection. Berl was previously program manager for community development and advocacy at Housing Alliance Delaware.
Before joining Housing Alliance, Berl was Community Planning manager for the Consortium and led the formulation of the Delaware Integrated HIV Prevention and Care Plan.
"The Consortium has an expert staff and a rich history of elevating the voices of people living with HIV, as well as those at risk of acquiring the disease, to seek and achieve access to opportunities and health," says Berl. "I am honored and humbled by the opportunity to lead this agency into the future. I would like to thank Executive Director Peter Houle for 16 years of service that he has given to this agency and to all Delawareans living with HIV."
Berl earned a bachelor's degree in communications and a master's degree in urban affairs and public policy from the University of Delaware. He also previously worked in the research department at the university's School of Public Policy and Administration and as a legislative fellow in the Delaware House of Representatives.
Founded in 1991, Delaware HIV Services Inc., d/b/a the Delaware HIV Consortium, has served as one of the State's administrators of supportive services provided through the Ryan White CARE Act. By working collaboratively with community partners and by providing direct services itself, the Consortium ensures that Delawareans living with HIV have access to HIV case management, transportation assistance, a housing assistance program, emergency financial assistance, HIV community planning, outreach, education, testing and linkage to care, and advocacy. The Consortium also provides subcontracted services to the Delaware Division of Public Health, administering programs including a data to care re-engagement program, a mail order condom distribution program, and a PrEP Navigation program. The Consortium provides statewide services to Delawareans living with HIV through offices in Wilmington and Milford, Delaware.
CONSORTIUM LAUNCHES PrEP NAVIGATION PROGRAM
The Delaware HIV Consortium is pleased to announce its new PrEP Navigation program. Pre-exposure Prophylaxis (PrEP) is a once a day pill that helps prevent HIV infection. This pilot program for PrEP Navigation is a collaboration of the Delaware Division of Public Heath, the Delaware HIV Consortium, and Planned Parenthood of Delaware, and is designed to help at-risk Delawareans to gain access to PrEP for the prevention of HIV infection. Thanks to two generous grants, the Consortium's PrEP Navigation program will provide funding to help patients overcome the cost of required lab work.
The PrEP Navigation program features a Consortium staffer who will be embedded at Planned Parenthood (PPDE) on Shipley Street in Wilmington one day a week. The navigator will be available to assist both PPDE and non-patients. These services will only be provided at the PPDE Wilmington location to start, but are available for all Delawareans. Once the patient has a referral for PrEP from a primary care provider, along with a physician's order for pre-prescribing lab work, the navigator will assist the patient in accessing both medication and diagnostic laboratory tests that are required before prescribing PrEP.
Accessing PrEP
A major barrier to accessing PrEP is the cost of diagnostic lab work that must be completed before the patient receives a prescription for PrEP. Currently, all health plans cover the medication, but some plans have a deductible or co-pay for labs. If the patient's deductible hasn't been met, it could cost $400-$800 out of pocket for lab work. Thanks to a generous grant from the Laffey-McHugh Foundation and the WAWA Foundation, the Consortium will be helping cover the costs of diagnostic work for those enrolled in our PrEP Navigation program. This grant funded program will be able to assist approximately 300 patients, but when the funds are exhausted the assistance will end.
The navigator will also help patients enroll in a patient medication assistance program, which provides up to $7,200 assistance per year – enough to cover out of pocket costs for the first three months until deductibles are satisfied.
The PrEP Navigation program will also help patients steer through some questions they may have about insurance. For example, Medicaid and Medicare both cover PrEP and diagnostic work that is required. For those who may qualify for Medicaid, but are not enrolled, the navigator will assist in enrolling.
For more information about our PrEP Navigation program, go to www.delawarehiv.org. At the site, you will find many useful tools including prescribing information for providers, a list of PrEP prescribers in Delaware, a toolkit for patients who think they might want to take one pill daily to prevent HIV.
Getting those most at risk for HIV infection on PrEP is a high priority for the US Department of Health & Human Services and is part of the National HIV Strategies for ending the HIV epidemic. In June 2019, the US Preventive Services Task Force recommended PrEP as a Grade A preventative service, so hopefully the diagnostic work required for PrEP will soon be mandated for coverage as "prevention" sometime in 2020. To join the PrEP Navigation program, call the Delaware HIV Consortium at 302-654-5471, or sign up at www.delawarehiv.org.
Walgreens stores in Delaware will be selling Red Ribbons from Tuesday, October 15 – 29 to raise funds in support of the Consortium's services to people with HIV. When you check out, just make a donation of $1 or $5 and you'll be helping support our services!
Cali to make PrEP more available
California's legislature has passed a law to make PrEP available without a prescription. Read more…
Discovy Approved for PrEP
Discovy, an HIV medication from Gilead Sciences, has been approved for Pre Exposure Prophylaxis (PrEP) by the Food and Drug Administration. Read more at Gilead.com
Delaware Passes ACA guarantees
The Delaware Legislature passed Senate Bill 35, which enshrines certain core elements of the ACA, also known as Obamacare, into Delaware code. Specifically, this bill would make it illegal in Delaware for insurance companies to deny coverage of their insureds or applicants based on a preexisting condition, based on lifetime or yearly caps, or based on the insured's credit rating. This means that these insurance coverage guarantees will survive no matter what changes take place on the Federal level. READ MORE.
Looking for Delaware HIV Stats?
Incidence of HIV in Delaware by gender, race, and more. Check HERE.
——————————————————————————————————————–
Third Man HIV-free: 12 years between subject No. 1 and subject No. 2, then days between no. 2 and 3. Amazing, groundbreaking research. Read more here.
---
© The Delaware HIV Consortium