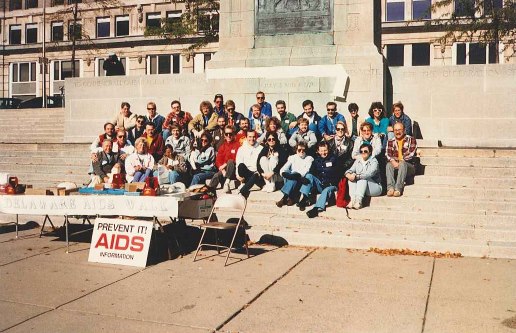 An Open Letter to the LGBTQIA+ Community and Allies:
Get Up…Look Sickening…and Walk.
AIDS Walk Delaware is September 18.
By JulieAnne Cross
Pop culture seems to be embracing so many things born from "gay culture."
Drag shows are everywhere—not just in our cozy Rehoboth Beach resort, but in towns up and down the First State like Dewey Beach, Delaware City and Wilmington. DMV readers have their pick of shows on their home turf, too. Folks that don't much venture out of their living rooms can experience the looks through shows like RuPaul's Drag Race, We're Here and Legendary.
The L Word may be the most successful on-screen portrayal of lesbian life, spawning a spinoff and opening doors for shows like Twenties and Hightown. Trans characters feature prominently in Euphoria and Orange Is the New Black and seemingly more screen and air time is dedicated to exploring the experience every day. None other than the Muppet Babies presented Baby Gonzo in a princess ball gown to challenge the binary.
While these programs serve to entertain, many are bringing health-related educational opportunities to the forefront.
Throwback dramas—namely Pose and It's a Sin, as well as Ratched—remind us there have always been deadly consequences for some LGBTQIA+ people. Reality programming—from competitions to makeover shows—introduces us to cast members living with HIV, going back to The Real World in 1993.
It's timely that the broader population is being reminded that pandemics don't go away on their own.
Some members of Generation X witnessed the devastation of AIDS in the 80s, while others took note of HIV only when Magic Johnson announced the diagnosis he's been living with since the 90s. And Gen X is perhaps the first to take for granted that it didn't have to be a death sentence. Millennials and Gen Zs, thankfully, may never know someone who has died of AIDS.
It might be easy for them to forget that unprotected sex or exposure to blood can pose a significant health risk. No doubt some believe it can't happen to them.
The popularity of these shows is a gift: the storylines remind people that we all need to keep fighting.
There is still work to be done to protect people—gay and straight. While HIV has not been a "gay disease" for decades, it's worth noting that just under half of all new infections are among men who have sex with men. People of color are at the highest risk. Men and women of every age, from teens to senior citizens (the largest growing at-risk group, newly re-entering the dating scene).
In the early days of the AIDS epidemic, it was the LGBTQIA+ crowd that raised money. Let's reclaim that.
AIDS Walk Delaware, presented jointly for 35 years by AIDS Delaware and the Delaware HIV Consortium, supports prevention and awareness. Funds raised support transportation, medication adherence, housing and testing for the 3,600 people in Delaware living with HIV. People who have been living with a disease for a long time. People who have just learned they've been infected. People who love someone who is infected. People whom the best and broadest prevention efforts failed.
We encourage you to follow Hollywood's lead and make the Walk an opportunity to embrace "the culture" for a good cause. To paraphrase RuPaul's Drag Race contestant Latrice Royale: get up…look sickening…and Walk.
Lace up your rainbow sneakers and Walk…in solidarity with Delawareans living with HIV and AIDS, and to end stigma. Still today, HIV-positive individuals are afraid to reveal their status for fear of being shunned by family and society.
Dust off your clack fan or parasol and Walk…for an end to HIV and for a healthy, HIV-informed community. Show the youth they can keep themselves safe and have fun and still be fully themselves.
Gel up your hair and Walk…in memoriam for those who simply wanted to live in peace and good health. Celebrate the fact that advances in pharmacology mean that undetectable = untransmittable.
Wear that garment you save for parties and Walk…for everyone before you who could not. Tell your success story.
Get the gang together and Walk…and represent whatever color of the rainbow that suits you. Invite your friends. Invite a coworker. Invite a teenager. Let's make the Walk a parade!
Be LOUD AND PROUD and Walk…to end HIV in Delaware. Don't have a team? Join one! We partner with agencies, including CAMP Rehoboth, and they'd love to have you walk with them. Visit AIDSWalkDelaware.org to sign up.
REGISTER OR DONATE to AIDS Walk Delaware
COVID's Impact on Under-served Delawareans: A Familiar Story
By Tyler Berl, Executive Director, Delaware HIV Consortium and Jordan Hines, HIV Community Planning Manager, Delaware HIV Consortium
While more and more Delawareans receive COVID-19 vaccinations, the state is seeing a notable drop in testing for the virus – a trend throughout the US. Public health experts say that — considered together — this is a positive development wrapped in a potentially worrisome one. Just as concerning, healthcare disparities persist in Delaware in the distribution of COVID-19 vaccines; as an example, Blacks make up 22 percent of Delaware's population, yet account for just 12 percent of fully-vaccinated Delawareans as of May 6.
The effectiveness of testing as a strategy for slowing the spread of communicable diseases is a lesson Delaware learned during an earlier epidemic – one that shares vast similarities to what we are experiencing today in our state – the Human Immunodeficiency Virus (HIV). This is something that we at the Delaware HIV Consortium, and the state's other AIDS service organizations have dealt with before.
Today, over 35 years since the onset of the AIDS epidemic, and just over a year since the beginning of this new pandemic, Delawareans living with HIV, and populations with similar socio-demographic characteristics, are experiencing an outsized impact of COVID-19 and will for the foreseeable future. Additional support from the Federal government, State of Delaware, and from our communities as a whole is called for in this time to meet these needs.
Earlier this year, the University of Delaware's Disaster Research Center, in collaboration with the Delaware HIV Consortium, conducted a study examining the social and community impacts of COVID-19 on Delawareans living with HIV. The study's report, released by UD in March, presents findings from this qualitative study, which focused on those in our community in greatest need of economic and healthcare support – those receiving benefits from Delaware's Ryan White Program HIV/AIDS Program.
The study's findings highlight the many difficulties people living with HIV dealt with during the COVID pandemic, much of which – housing and food insecurity, inconsistent access to transportation, healthcare and technology (including telehealth), elevated anxiety, depression and trouble with sobriety – can be directly or indirectly linked to economic instability. As was found, for many Delawareans living with HIV, COVID-19 exacerbated an already untenable financial situation.
Many low income people living with HIV are being forced to choose between life-sustaining activities – moving in with unrelated housemates who may not follow safety precautions, taking on additional jobs that frequently expose them to the public or sharing protective gear – that vastly elevate their risk for COVID, and financial trouble.
"These are decisions that could cost you your life, or someone else's life," noted one study participant.
Yet, these challenges are not just affecting those with HIV. With 11 percent of Delaware residents living below the poverty line, tens of thousands of others are feeling these same challenges.
Even after all Delawareans have access to the vaccines, the state will need to remain vigilant and maintain a robust COVID testing system.
There is more that we could, and should, do as a state to take advantage of the current moment to both address the new challenges that populations most impacted by COVID are experiencing, and ensure that we are prepared for our next crisis:
Build on the state's existing COVID-19 testing framework to expand and strengthen access to preventative health services – screening and testing – particularly targeted to under-resourced populations.
Prioritize investment to ensure access to, and training for using technology for low income- and other marginalized Delawareans to reduce barriers to healthcare services.
Increase support for Delaware's social service sector who, during this past year and into the future, make up much of the social safety net for Delawareans and help keep them connected to vital services including healthcare, support services, food assistance, and housing assistance.
When there is no longer a need for COVID testing sites, we are all hoping to get back to a sense of normalcy. However, reaching normalcy will be hard for many Delawareans, including some Delawareans living with HIV and others that COVID-19 substantively affected. Investing in these three proposed areas should help ensure that as a state we are prepared to help meet these needs.
CLICK HERE to view the COVID Impact study.
Looking for Delaware HIV Stats?
Incidence of HIV in Delaware by gender, race, and more. Check HERE.
——————————————————————————————————————–
Third Man HIV-free: 12 years between subject No. 1 and subject No. 2, then days between no. 2 and 3. Amazing, groundbreaking research. Read more here.
---
© The Delaware HIV Consortium