December 21, 2016
Delaware HIV Consortium 25th Anniversary
On December 21, 2016, the Consortium marks 25 years since our incorporation as a Delaware non-profit organization, dedicated to serving people affected and infected by HIV/AIDS, providing leadership to offer integrated services to people with HIV, and to ending the epidemic through prevention services.
Join us in remembering all those who we have lost to HIV/AIDS, and to re-dedicating yourself to stopping the spread of HIV, and the end of the epidemic.
Make a donation to help us fight HIV/AIDS.  Your donation will be used to support our counseling & testing program.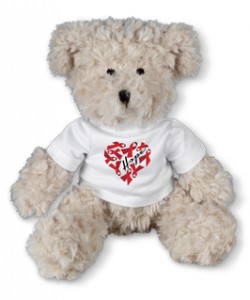 Hope Teddy Bears on Sale!
Sorry, all our ornaments are sold out this year!  We still do have a supply of last year's ornament available for $10 each, and we also have the HOPE TEDDY BEAR for $20 (must be picked up at our Wilmington offices.  You can pre-order and pay online by clicking the link below.
Supplies very limited!

DelaWEAR One
Mail Order Condom Program
This program is designed to help curb HIV infection and is intended for the following people:
those who are HIV positive,
sexual partners of those who are HIV positive, and
those who are at higher risk of contracting HIV (including IV drug users and people with multiple sex partners who currently do not use condoms).